According to the 1920 Census entry for Jennie Kohn, Solomon's daughter, Solomon was born in Tuchel, Westpreußen, Prussia. Hedwig Bloom, whose maiden name still eludes us, was born in Zempelburg. Jennie was later the executrix of Solomon's will, and filed suit against the United Railway Company for his death.
What follows is part of Solomon's death certificate. Both father and mother are shown as 'unknown,' and the birthplace only lists Germany.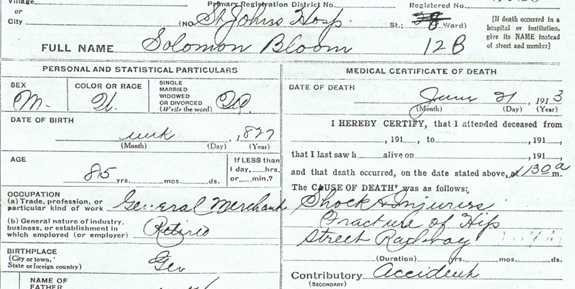 Continuing research in Tuchel, turned up a Bluhm family. Although Solomon's parents have not been determined, it appears that his Grandfather was Selig Naphtali Blum. Selig's father was Naphtali Salomon Bluhm, ca. 1760 to ca. 1815. The eldest Blum found to date is Salomon, born about 1720.