The Peysers originate from Gnesen, Posen, Prussia. Research has been able to compile the ancestry back to about 1740 with a man named Mendel Peyser. These ancestors were compiled from US Census information, and a German language book about the histories ofJewish communities in Posen.
Mendel's Great Grandchildren, Theodore, Jacob, and Philip, immigrated to the United States. The life of Abraham, the fourth brother, is still a mystery. The three all settled in Washington, D.C., and were engaged in the clothing industry as merchants.
One of the best finds of this research, was the birth record of Natalie Kilinski, Philips wife. Here is the translation:
Births in Gnesen for 1841, #60: To Salamon KILINSKI and Roeschen, a daughter born 4 October 1841; legitimate female, named Natilie [the note attached states that this is an accurate record of birth, made on 10 October 1841]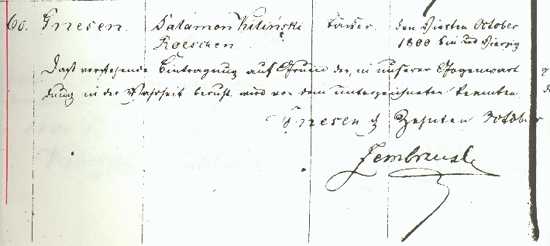 Since the discovery of this record. We now know that Rachel and Rebecca Goodman, who are living with Philip and Natalie in 1870, are Natalie's mother and sister.
Again, from this key find and other Gnesen records, we know that Salamon Kilinski had two brothers, Heiman and Auguste. Their father, and as far back as we can trace, was David Kilinski, born about 1784 or 85, and died on June 19, 1847.